Fielddrive ensures smooth check-in at the world's largest robotic process automation forums.
Held in London in April and Orlando in May, Blue Prism World 2019 staged the biggest robotic process automation (RPA) forums on the planet.
Attendees were users, experts and visionaries in the field of intelligent automation; and the fielddrive team was delighted to deliver live badging services at check-in.

The duo of conferences was hosted by Blue Prism, a pioneering software company designing RPA software to eliminate low-return, high-risk manual data entry. It was managed by Splash Event Solutions, our client and a leading UK-based international event management company.
2 locations: London ExCel and Orlando Orange County Convention Center

2 x 2 day events (London 3-4th April / Orlando 22-23rd May)

3,000 attendees at each location

9 kiosks in London

12 kiosks in Orlando
Fielddrive was tasked with providing a fast and seamless check-in process; checking in 3,000 attendees in a short period of time; and providing customized information on badges with personalized agendas on the back for each event.
We achieved this in four ways:
Online registration
Splash used Eventsforce for online registration and fielddrive for on-site badge printing.

The fielddrive team built an API integration with Eventsforce via blendr.io. As a result, Splash didn't have to switch providers or migrate data. Attendees registered online, although registration remained open for on-site registrations. During the online process, attendees selected the session tracks they wanted to follow during the event. This information was printed on personalized agendas on the back of their badges. Information was also collected about dietary preferences. This was then displayed via pop-up messages at fielddrive's kiosks during the check-in, so the hostesses could relay the right menu options.
2.
Internet bandwidth
At both venues, we tested different implementations to assess the actual internet bandwidth for live badging. An 8 Mbps upload speed per check-in station was deemed sufficient.
3.
On-site check-in
Blue Prism/Splash used 9 of our kiosks for the event in London and 12 kiosks in Orlando. At London, one unit was assigned to the registration desk while Orlando used 2 kiosks for this purpose. Attendees were identified upon arrival by scanning a barcode from printed tickets or e-tickets generated by Eventsforce. Alternatively, they could be checked in by name look-up. Once optimized, badge printing was then triggered by the kiosk.
4. Badge printing
Badges were printed automatically in real time on blank and tear-resistant badge paper, which allowed for full-color, tailored content. Once personalization was inputted, our kiosks increased speed and brought down the total check-in time to an average of 8 seconds per delegate.

The results / feedback
Attendees were happy as there were no hold ups and a stress-free check-in provided a great start to the event. Positive feedback included the very fast check-in and badge printing and the eco-friendly badges, made of paper with a small carbon footprint.

Blue Prism was impressed with how quick and seamless the process was, without any queues. It was the most stress-free registration in the history of Blue Prism World.
And last but definitely not least, our clients had this to say: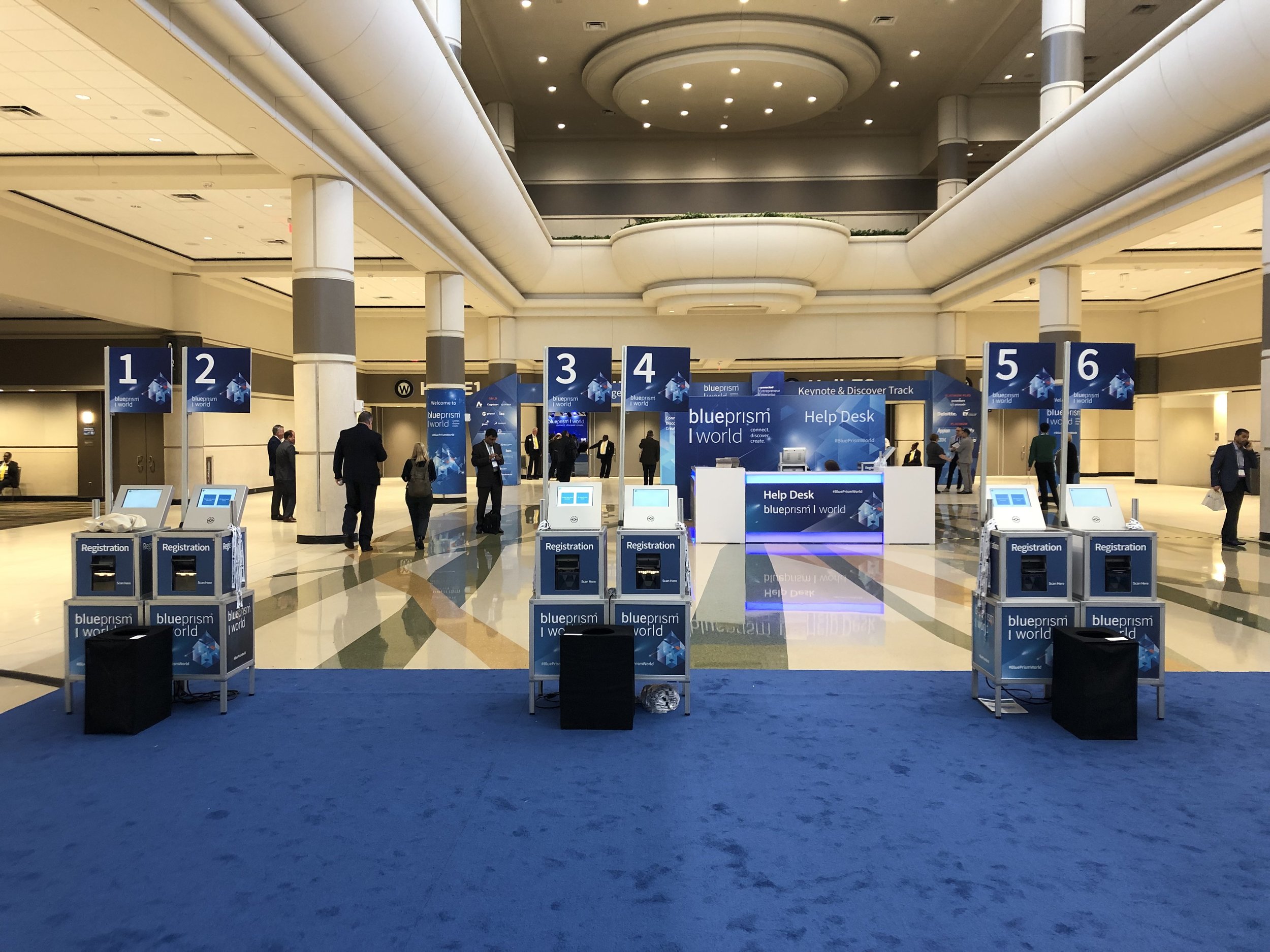 About Splash Event Solutions
Splash Event Solutions specializes in the organisation, implementation and management of world-class corporate events for clients such as Blue Prism, Panasonic Business, Madison and Informatica.
From high-profile, large-scale conferences, to bespoke luxury board meetings, it delivers exceptional venue and attendee management, tailor-made registration processing, event security and specialised financial planning.
For more information on Splash Event Solutions, go here
Are you eager to use live badging at your next event?
For more about fielddrive's unique live badging system read here or just simply schedule a demo.