In January, at Horecava - the International Trade Fair for the Hotel & Catering Industry - fielddrive Provided several kiosks to RAI for self-check-in with face recognition software. 1,250 attendees were successfully checked-in with this method.
Pim Schoonderwoerd, Product manager IT Services at RAI, believes it will be a significant improvement in attendee experience at their events.
"Fielddrive's face recognition solution can provide great added value for all events at our venue. Face recognition is the next step in welcoming the visitors to an event. With the fast check-in and extensive options in badge-printing, it will expand RAI's range of IT based solutions offered to organizers. With the customer-friendly face recognition, I am enthusiastic about fielddrive's solutions and look forward to the next steps."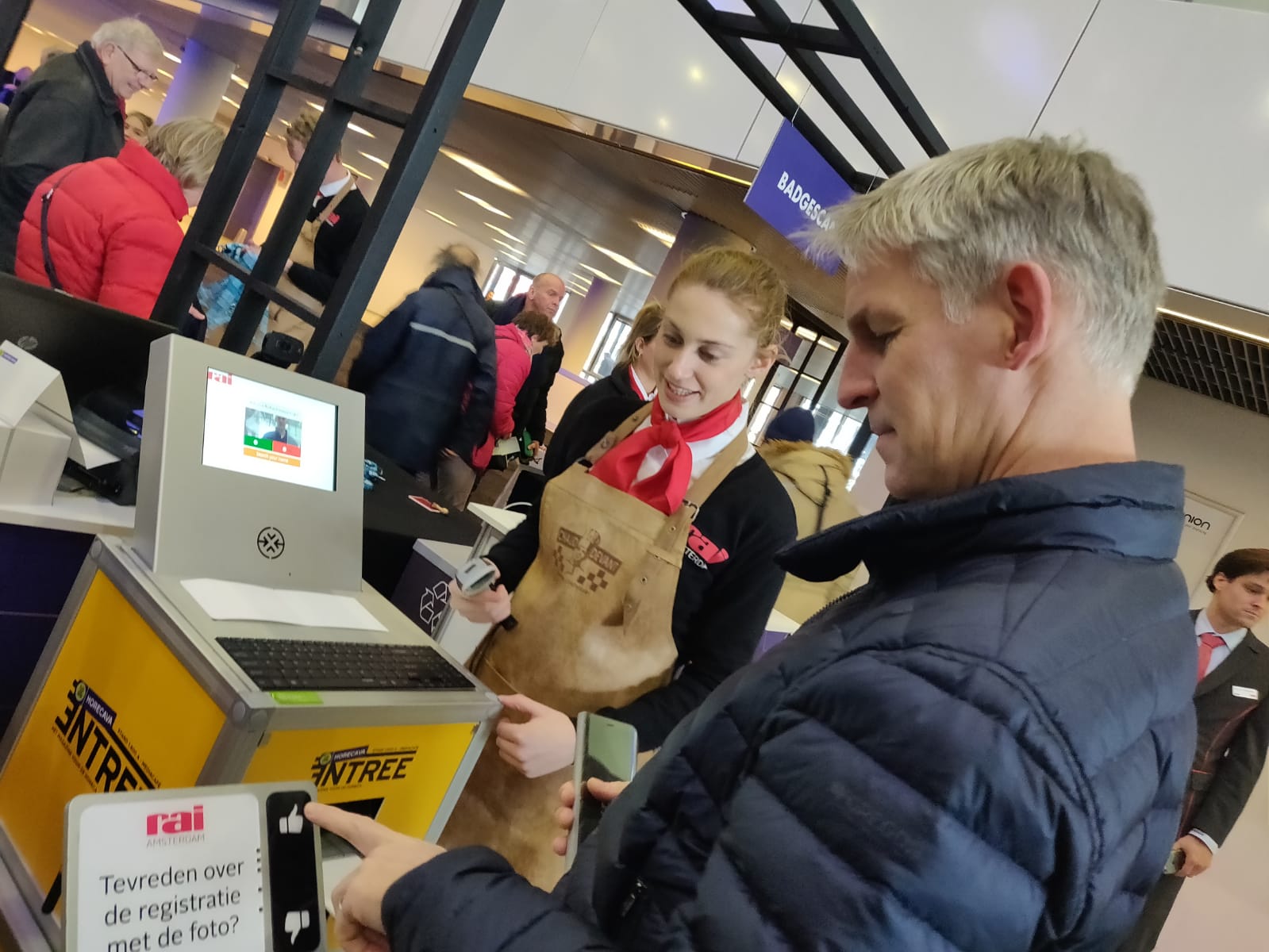 (1) 50% faster check-in times than traditional methods
Face recognition, coupled with synched badge printing, cuts down on the attendee actions required and ensures check-in time is takes approximately 10 seconds. With no need for printed tickets and confirmation emails - the biggest hold-ups at registration desks - you are removing frustration and waiting times and ensuring a good atmosphere from the very beginning.
(2) Security and GDPR compliance
All attendee data remains within the online registration system that the event organiser uses. Zenus - fielddrive's face recognition technology partner - receives attendee images over securely encrypted channels. Once it has received these, the software extracts face measurements and then immediately deletes the image. Zenus then sends back a unique identifier corresponding to each image without ever accessing personal information. This provides event organizers with complete peace of mind as the data is handled properly and securely, then discarded. When the event is over, the entire database is deleted from both fielddrive's and Zenus' servers and kiosks.
(3) Eco-friendliness
Face recognition eliminates the need for pre-printed tickets and confirmation letters, thus saving the planet one event at a time.
(4) Wowing of attendees
Face recognition is intuitive and easy to use. Attendee participation has already exceeded our expectations because people are familiar with it and curious about the technology. It also means people enter the event with a positive and sociable mindset. As it is currently a new technology in our industry, it makes each event feel exclusive, unforgettable, innovative, professional and 'cool'.
ARE YOU EAGER TO USE FACE RECOGNITION AT YOUR NEXT EVENT?
Learn more about our offer or contact us at sales@fielddrive.eu